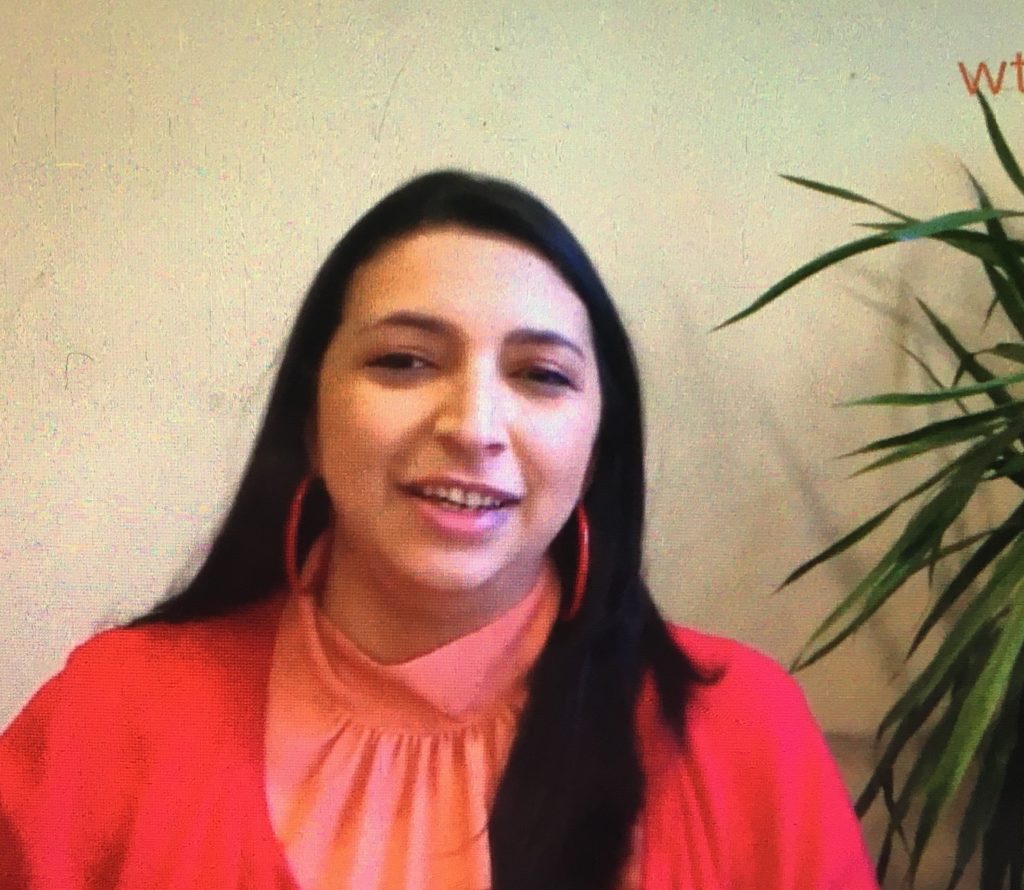 "You have what it takes to triumph. You may not know it. You may not see it. But it's there." Delna Straus
Adversity isn't new to Delna Straus, co-founder of KEYO, a biometric identity platform for businesses. But she believes women entrepreneurs can rise to the challenge.
At the intersection of real life, sometimes you have very little. That the paradox. It easy to see what we don t have. It easy to give up. In the new world that we re operating in, the disruption is unprecedented, she said.
Look beyond the current environment to find solutions, she told her female colleagues at the fourth annual Women Tech Founders' Conference held online April 24. Straus was one of over 20 women leaders who spoke at the conference, "In Unprecedented Times." Many shared tales of how they persisted through challenging times to succeed in business.
Straus, who came to the U.S. from Mumbai, India, to attend Beloit College, started her first business in college. She and a partner collected the reusable items students discarded at the end of the year and sold the used goods the next fall.
Now her company KEYO provides a security system for businesses that uses biometric scans of employees and customers palms to eliminate the need for identification badges.
She encourages entrepreneurs to overcome problems by focusing on what they can do. Look at the world you have created " your network, your team. We limit ourselves (by) looking at circumstances but not at the power to change them."
As a teenager in India, Straus said, "I dreamed of studying abroad, changing the world and helping my family financially." When she faced what seemed to be an unsurmountable challenge, she asked herself, "What am I going to do now?"
The same drive that spurs women to start companies will help them overcome the current environment. "This changing new world needs you," she said.
There still the ability to move past challenges by looking at what in you and your power to build strong networks," Straus said

Terri Foudray, founder, Rumble IoT Inc.
At times like this, your leadership will be a test." Terri Foudray
The future looked bleak for Terri Foudray this year when a major investor retreated from Rumble IoT, the company she started in 2019 with a second mortgage and funds from her 401K retirement account.
Foudray said she aware 96% of start ups will fail, but she said, If you re a founder, checking out really isn t an option. She shared her story and her leadership advice during the Women Tech Founder Conference.
Rumble Internet of Things Inc. provides custom technology solutions to help client companies grow revenue and improve efficiencies. Its data platform is designed to help companies make smart decisions.
But the COVID-19 pandemic threw a wrench in the young company growth plans. I lined up investors that would get us to 2020, she said. Then the epidemic hit. My large investor pulled his investment back, she said.
Foudray said she was back at her dining room table by herself trying to turn around the business. We had no cash in the bank. We had no way to pay our employees.
I can t tell you how daunting it was, she said.
But she focused on leadership and her long-term vision for the company. At times like this, your leadership will be a test, she said. Because we were focused on the end game, we re ready to accept the opportunity.
Foudray said she raised half a million dollars in new investment and has five to 10 people considering similar investments. It will be a multiyear engagement. We re making it through as a team. I ve gone from staring into the abyss to looking at growth and success.
The entire team is still on board although pay has been disrupted, she said. My colleagues have stuck with it and we are all in this together.
Chanay Walton, CEO, A Better Weigh Inc. and MyPay Circle
Once you decide something is a good idea, dive in first, then go for it. Take one step, then take another." Chanay Walton
Chanay Walton said execution, leadership and confidence will propel women in business. There is nothing I can t achieve, and there nothing you can t achieve, she said.
Walton started A Better Weigh Inc. in 2009 with $5,000 and turned it into a successful weight-loss business after fending off a potential competitor, she said. In 2017, she founded MyPay Circle Inc., an app that manages payments for events.
Once you decide something is a good idea, dive in first, then go for it. Take one step, then take another.
But entrepreneurs also should encourage others to take a step forward to allow the business to grow. She said she had the support of her mother and father and the confidence to carry out her ideas.
Everything I ve done has been in uncharted territory. I m the first entrepreneur in my family. While I didn t grow up with a fancy education or a lot of money, I took what I had " my idea, my bread and I made something.