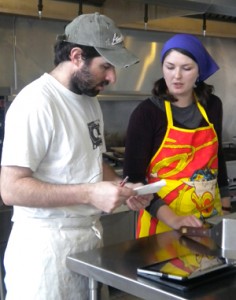 By Hallie Busta
When Nicolas Ibarzabal isn t selling empanadas out of his newly launched food truck, he preparing his Argentine fare in a shared-used kitchen on the city West Side.
As co-owner of 5411 Empanadas, Ibarzabal joins a growing number of Chicago-area entrepreneurs setting up in shared facilities that charge less rent and offer more services than typical office buildings. The facilities run the gamut from traditional business incubators to fashion studios.
Currently 1,200 business incubators exist in the United States, said Linda Knopp, director of policy analysis and research at the National Business Incubation Association in Athens, Ohio. On average, they house about 97 people in addition to incubator staff, and most companies stay about 33 months, she said.
Startups with limited access to capital increasingly are looking to incubator space, said Sandra Miller, director of advancing innovation at the Kansas City, Mo.-based Ewing Marion Kauffman Foundation. That need to do more and more bootstrapping than ever before is also driving the different models we re seeing, she said.
Communities also are playing a role. Given the down economy, communities are looking for ways to stimulate economic growth and create jobs locally, Knopp said. Chicago's Edgewater neighborhood offers one of the newest incubators, putting entrepreneurs through a three-step program. See related articles  about the Edgewater small business  incubator and why more sole proprietors are seeking shared workspaces.
Varied incubator programs attract different business types
The more traditional models offer office space and services including legal guidance, financial advice, marketing and access to capital. Others, such as Sandbox Industries Incubator and Lightbank at Groupon headquarters make investments in their member companies, which often are technology startups.
Technology entrepreneurs often seek incubator space to access a larger network of resources that will help them grow rapidly, Miller said. When you re in that race, you need to really be plugged in to an incredible network, she said.
Jim Orrico, president of Assistive Medical Equipment, launched his business last spring from a 1,000-square-foot space at the Fulton-Carroll Center operated by the Industrial Council of Nearwest Chicago. He said he chose the location for its low rates and the flexibility to rent more space as his business grows. One of the biggest costs I was going to be hit with was office space, he said.
The opportunity to grow within the more than 400,000-square-foot building is a draw for prospective members, said Andrew Fogaty, director of outreach at the industrial council.  Spaces vary from 500 to 18,000 square feet in size. The Fulton-Carroll Center currently houses 125 member businesses, including wood and metal workers, coffee and tea companies, a tango studio and a trapeze artist, he said.
Public funding supports an Illinois Small Business Development Center, an international trade center to guide new ventures looking to export products, and computer training and business seminars for its member businesses and others in the Chicago area, he said.
Special-use incubators target niches
The Chicago Fashion Incubator in the Loop has brought in six emerging designers annually since 2008 for its yearlong entrepreneurship-focused residency program, said Lara Miller, executive director. Together, the designers have use of  more than 2,300 square feet of space and equipment, Miller said.
The incubator offers marketing, sales and branding workshops. It aims to help designers learn fashion industry trends and establish price points, Miller said. It also holds quarterly workshops and roundtable discussions for its 19 associate designers, she said.
The hope is that by having them within an incubator program, they ll be able to be a step ahead, she said.
For designer Anna Hovet, who was selected for the incubator in 2009, honing her business skills was important in launching Anna Hovet Designs, which she now runs from a space in Pilsen shared with another incubator alumna. [The incubator] is much more taking your talent and creating it into a viable business, she said.
Shared-use kitchens like the one Ibarzabal uses provide the required licensed facility and professional-grade equipment to entrepreneurs who would be unable to afford their own setup, experts said.
Currently, businesses working out of shared-use kitchens in Chicago pay $660 for a two-year city retail food establishment license. Alexis Leverenz, owner of Kitchen Chicago on the city West Side, says she and a small group of shared-use kitchen advocates are pushing for a lower fee that would help them attract small food businesses needing space less frequently.
Kitchen Chicago's  more than 20 member companies pay between $14 and $24 per hour to use the 4,000-square-foot facility. Payment is based on the frequency and time of day they use the kitchen, including additional fees for a variety of storage options, Leverenz said.
Ibarzabal credits Kitchen Chicago, where he and his team work daily, for his  company growth. He said he and his two co-owners knew little about the food industry when they launched the business in June 2009. We didn t know how people were going to react to [the empanadas], so we didn t invest that much money at the beginning, he said.
Last month, the self-funded venture added a food truck. To manage the increased sales volume, the small team splits its time between baking more than 200 frozen empanadas each morning, preparing six different filling types and doing office work, Ibarzabal said.
Shared-use kitchens provide food entrepreneurs "the opportunity to go for it and take that risk, he said.